<!Recipie----->

Moroccan Spicy Carrot Soup

Spicy carrot soup with saffron and cinnamon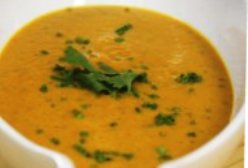 <!Ingredients----->

Ingredients:

1 Tbsp Olive Oil
1 Medium Onions, chopped
3 Cloves Garlic, crushed
250g Carrots, diced
30g Rice
1/2 Liter Vegetable Stock
1 Tsp All Spice
Pinch of Saffron
1/2 Tsp Cumin Powder
1/2 Tsp Paprika
1/2 Tsp Turmeric
1/2 Tsp Ginger
1 Tsp Cinnamon
1 Dollop Yoghurt
1 Tblsp Flat Leaf Parsley, finely chopped

<!Method----->

Method:

In a heavy bottomed pan, heat up the olive oil.
Add the onions, garlic and sauté for 3 minutes.
Add the carrots, paprika, all spice and sauté for another 2-3 minutes.
Add the stock and simmer for 10 minutes.
Add the rice and cook for another 10-15 minutes until the rice is cooked.
Using a slotted spoon, remove some of the rice and set it aside for use as garnish.
Add the lemon juice then place into a blender and blend into a smooth puree.
Serve garnished with the rice, parsley and a dollop of yoghurt.