<!Recipie----->

Turkish potato soup

Potato with milk, stock, garlic and cumin garnished with lettuce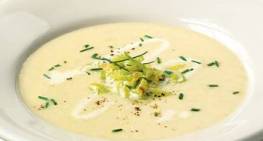 <!Recipie Ing & Meth--------->

Ingredients:

4 potatoes, peeled
5 cups of chicken stock
2 egg
1 cup of milk
2 cloves of garlic, crushed
1 teasp salt
Lettuce finely chopped for garnish
Spring onions finely chopped for garnish
Cumin for garnish



Method:

In a large suacepan boil potatoes until very soft then strain and mash the potatoes in the saucepan.
Add the chicken stock, salt and garlic then simmer on a medium heat for 15 minutes.
Beat the milk and egg in a bowl.
Turn off the heat and stir in the milk mixture slowly.
Garnish with lettuce, spring onions and a sprinkle of cumin.
Serve hot.