<!Recipie----->

Saudi Beef and Vegetable Soup

Beef and vegetable soup with garlic, herbs and spices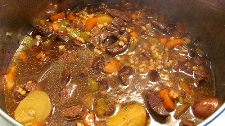 <!Ingredients----->

Ingredients:

1/4 Cup Pearled Barley
300g Lean Beef, diced
6 Cups Water
2 Garlic Cloves, crushed
1 Tsp Ground Cumin
1 Tsp Ground Cardamom
1 Tsp Ground Dried Thyme
2 Medium Potatoes, peeled, diced
2 Carrots, peeled, chopped
1 large Onion, chopped
Salt and Pepper to taste
Flat Leaf Parsley, finely chopped for garnish

<!Method----->

Method:

Add pearled barley and diced beef into a large saucepan the add water and bring to boil.
Cover and simmer on a low heat for 10 minutes.
Add the remaining ingredients and simmer on a low heat for another 10-15 minutes.
Garnish with chopped parsley then serve.