<!Recipie----->

Saudi Jareesh Soup

Spicy ground meat, crushed wheat and tomato soup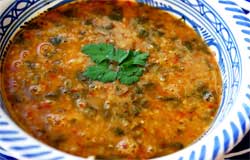 <!Ingredients----->

Ingredients:

1 Cup of Jareesh (Crushed Wheat)
1 Tbsp of Corn Oil
1 Tsp of Cumin Seeds
1 Tsp of Fennel Seeds
1 Cinnamon Stick
1 Onion, finely chopped
3 Cloves Garlic, minced
250g of Ground Lanb or Beef
2 Tomatoes, chopped
1 Tblsp Tomato Paste
2 Bay Leaf
2 Tsp of Salt
1/2 Tsp of Black Pepper
Juice of half a Lemon

<!Method----->

Method:

Wash the crushed wheat in cold water then soak in cold water for 1 hour.
In large saucepan heat the oil then sauté the onions, garlic, cumin, fennel, cinnamon, and cardamom until lightly golden.
Add the meat, mix well until meat has browned.
Add tomato paste, crushed wheat, water, salt and pepper then leave for on a medium heat for 20-30 min until cooked.
Squeeze on lemon juice then serve hot.