<!Recipie----->

Tomato, Rice and Chickpea Soup

Tomato soup with rice, garlic, spice, chickpeas and fresh coriander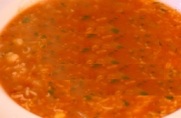 <!Ingredients----->

Ingredients:

2 Tblsp Butter
2 Medium Onions, chopped
4 Garlic Cloves, crushed
1/4 Cup Fresh Coriander, finely chopped
1-2 Tsp Ground Cumin
1/2 Tsp Ground Allspice
1 Can Chickpeas, Drained and Rinsed
3 Cups Tomato Juice
4 Cups Water
1/2 Cup Rice, Rinsed
Salt and Pepper, to taste

<!Method----->

Method:

Melt butter in a saucepan and saute the onions until they begin to brown.
Add garlic, cilantro, cumin, and allspice and saute a few minutes more.
Mix in remaining ingredients and bring to a boil.
Cook over medium tempreture for about 20 minutes or until the rice is cooked.