<!Recipie----->

Turkish Fish and Tomato Soup

Boneless fish in a tomato soup with celery, potato and fresh herbs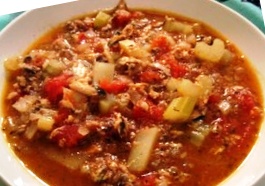 <!Ingredients----->

Ingredients:

250g Boneless White Fish
2 Medium Onions, chopped
2 Garlic Cloves, minced
1/2 Lemon Juice
1/2 Tsp Lemon Zest
3 Tbsp Extra Virgin Olive Oil
Salt and Pepper to taste
3 Cups Hot Water
3 Tomatoes, peeled, diced
1 Celery Stick, chopped
1 Medium Potato, cubed
2 Tbsp Parsley, finely chopped
2 Tbsp Fresh oregano, chopped

<!Method----->

Method:

Place the fish on a plate and sprinkle with lemon juice, lemon zest, olive oil, salt and pepper then set aside.
In large saucepan heat the oil then sauté the onions and garlic until lightly golden.
Add the potato, celery and tomato with water on medium-low heat and simmer for around 10 minutes until the vegetables have softened.
Cut the fish into small chunks then add the fish to the soup and cook for another 5 minutes.
Mix through the parsley and oregano and cook for another 1-2 minutes then serve.