<!Recipie----->

Vegtable and Couscous Soup

Vegtable, chickpea and couscous tomato soup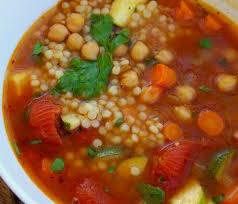 <!Ingredients----->

Ingredients:

1 potato, cut into cubes
1 large carrot, sliced
1 onion, finely chopped
1 zucchini, sliced
3 cloves garlic crushed
3 tblp olive oil
500ml water (more if needed)
1 can 400g peeled tomatoes
1 400g tin chickpeas, drained
1/2 tsp turmeric
1/2 cumin powder
Salt and pepper to taste
2 cups freshly cooked couscous
1/2 Lemon juice
Flat-leaf parsley for garnish, roughly chopped

<!Method----->

Method:

Heat the oil in a large saucepan then cook the vegetables together 2 to 3 minutes.
Add water, peeled tomatoes, chickpeas, turmeric, cumin and salt and pepper then bring to a boil.
Simmer on a medium to low heat for 30 minutes until vegetables are soft.
Remove from heat, mix through couscous, add lemon juice and garnish with parsley then serve.