<!Recipie----->

Almond Balls

Pastry balls stuffed with almonds, cinnamon and orange flower water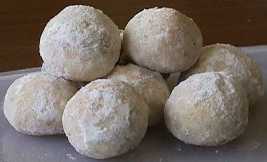 <!Recipie Ing & Meth--------->

Ingredients:

Pastry:
500g butter
400g castor sugar
700g flour
200g cornflour
1 teaspoon baking powder
1 teaspoon almond essence

Filling:
500g poached almonds
250g castor sugar
2 tablespoons butter
1 teaspoon cinnamon
1/2 teaspoon almond essence
1 tablespoon orange flower water



Method:

Pastry: In a large bowl combine butter, sugar, flour, cornflour, baking powder and almond essence until smooth dough then shape into little balls.
Almond filling: In another large bowl mix almonds with sugar, then add butter, cinnamon, almond essence and orange-flower water.
Stuff balls will filling and close opening.
Preheated oven at 180c. Place balls on a baking paper on a baking tray, then bake for 15 minutes until golden.
Serve sprinkled with icing sugar.