<!Recipie----->

Makrood Date Cakes

Date cakes topped with honey and toasted sesame seeds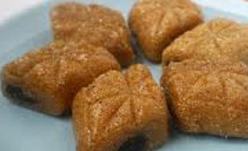 <!Ingredients----->

Ingredients:

Dough:
1 Egg
1 Cup Vegtable Oil
2 Cups Flour
3 Cups Semolina
1 Tblsp Baking Powder

Filling:
400g Pitted chopped Datea
1/2 Cup Very Hot Water
1 Tblsp Cinnamon
1 Tblsp Ginger
1 Tsp Cloves
Peel of 2 Lemons
2 Tblsp orange Flower Water

Topping:
1 1/2 Cups Honey
1/4 Cup Toasted Sesame Seeds

<!Method----->

Method:

Preheat oven to 175c.
Mix all the dough ingredients thoroughly, and knead it on a board for just a minute or two to obtain smooth dough. Set aside.
Process all the filling ingredients in a food processor until smooth.
Divide the dough in half. On a lightly floured board, roll each piece into a rectangle 2cm thick, about 25-30cm long.
Transfer onto a well-greased cookie sheet with straight sides.
Cover the dough evenly with the filling. Repeat with the remaining dough, and place gently over the filling.
Score the dough in the shape of squares or diamonds.
Bake about 40-50 minutes until golden.
Immediately pour the honey slowly and evenly over the whole cake, and then sprinkle all over with the sesame seeds.
Let the cake cool then cut it along the scored lines and serve.