<!Recipie----->

Moroccan Date and Walnut Bars

Crunchy date, walnut and cinnamon sweets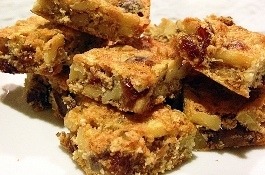 <!Ingredients----->

Ingredients:

2 Eggs
5 Tblsp Plain Flour
1 Cup Caster Sugar
1 Tsp Baking Powder
1 Tsp Ground Cinnamon
1/2 Cup Dates, roughly chopped
1/2 Cup Walnuts, roughly chopped

<!Method----->

Method:

Pre-heat oven to 180c.
In a large mixing bowl beat the eggs well.
Sift into the bowl the flour, sugar and baking powder then mix well to form a smooth consistency.
Mix through the cinnamon, dates and walnuts.
Line a 30x30cm baking tray with lightly greased baking paper.
Spread out the mixture evenly using a spatula onto the baking paper, on the tray.
Bake for 20 minutes until golden on top.
Allow 2 hours to cool then cut into 3x6cm bars then serve.