<!Recipie----->

Semolina and Walnut Balls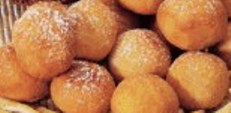 <!Recipie Ing & Meth--------->

Ingredients:


Pastry:
750g Semolina
1 cup sugar
500g butter
boiling water

Filling:
500g fresh walnut pieces
½ cup sugar
½ teaspoon rosewater
¼ cup cold water

Topping:
2 cups icing sugar


Method:

Pastry: Place the semolina and sugar in a large bowl and mix together well. Melt the butter and bring to the boil, then gradually blend into the semolina and sugar mixture. Knead well, and then set aside in an airtight container for at least one hour or up to 24 hours. Knead the mixture again, pouring in enough boiling water to make a soft pliable dough. (It is a good idea to wear rubber gloves to protect your hands from the heat.)
Filling: Crush the walnuts into very finr pieces and mix in the sugar. Add the rosewater to the cold water and mix into the walnut and sugar mixture.
To assemble: Mould the pastry into small balls about 2 in (5cm) in diameter. Hollow out the centre of each ball with your index finger by pressing around the inside of the ball to make a shell about ¼ in (7mm) thick.
Fill the hollow shell with the filling mixture and close the top of the shell by pressing the dough together. Flatten the shell into a pie shape by pressing lightly between the palms of hands. Make a design on top with the side and prongs of a fork.
Place the cakes on a baking tray and cook at 200c for approx 20 minutes until lightly browned.
Topping: Sprinkle sifted icing sugar generously over the top of the cakes.