<!Recipie----->

Lebanese Tahini and Pine Nuts Cookies

Cookies made with tahini, orange zest, vanilla and pine nuts dused with icing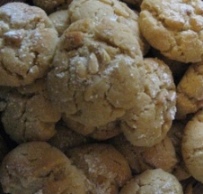 <!Ingredients----->

Ingredients:

150g unsalted butter, softened
100g sugar
1 tsp vanilla extract
1/2 tsp mixed spice
Pinch of salt
1 tsp orange zest
90ml tahini paste
225g plain flour
5g baking powder
25 raw pine nuts

For dusting:
3 tbsp icing mixture
1 tsp mixed spice

<!Method----->

Method:

In a mixer, beat the butter and sugar for 5 minutes or until light and creamy. Reduce the speed of the mixer and add vanilla, mixed spice, salt, orange zest and tahini. Slowly mix into a smooth paste.
Add the flour and baking powder and process until a smooth and workable dough forms (avoid overworking the dough).
Cover with plastic wrap and refrigerate for 1 hour.
Preheat oven to 175°C.
Use your palms to shape the dough into large olive-sized balls. Arrange the cookies on a tray lined with baking paper, with adequate space between them.
Press one pine nut onto the top of each cookie, bake for 15 minutes until lightly coloured. When cool, dust with the sugar-mixed spice mixture and store in airtight containers.
If you enjoyed this Tahini and pine nut cookies recipe then browse more Lebanese recipes, dessert recipes, christmas recipes, baking recipes, prepare ingredients in advance recipes and our most popular hainanese chicken rice recipe.