<!Recipie----->

Turkish Shortbread Cookies

Shortbread cookies with vanilla flavour and topped with icing sugar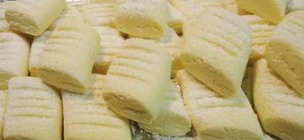 <!Ingredients----->

Ingredients:

400g butter at room temperature
3 cups corn starch
1 3/4 cups all purpose flour
9-10 Tbsp caster sugar
1 Tbsp vanilla
½ cup icing sugar for topping

<!Method----->

Method:

Mixpowdered sugar and soft butter/margarine in a large bowl.
Knead until it gets homogeneous. Add starch slowly, while kneading. Also, add vanilla as well. Then, add flour slowly.
Knead until the dough becomes smooth and soft.
Place large pieces of dough on a flat surface roll it with your hands to make a long stick, 5cm thick.
Use a knife to cut 1 inch pieces diagonally then make stripes on each piece with a forlk pressing gently.
Place on a greased oven tray leaving space between.
Bake in a preheated oven at 160C for about 20-30 minutes.
Let cool, then sprinkle icing sugar on top with a strainer.