<!Recipie----->

Egyptian Zalabia Balls

Fried fritter balls in an orange blossom water and cinnamon syrup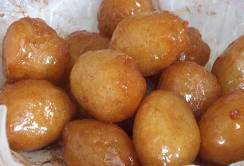 <!Ingredients----->

Ingredients:

Batter:
2 tsp active dry yeast
1 tsp sugar
3 1/2 cups flour
1/2 teaspoon salt
Oil for frying

Sugar Syrup:
2 cups sugar
2 cups water
1/2 lemon Juice
1 tsp orange blossom water
1 tsp cinnamon powder

<!Method----->

Method:

Make the syrup first, mix all the syrup ingredients in a saucepan on a low to medium heat and simmer and stir for 10-15 minutes then allow to cool.
Make the batter next, dissolve the yeast and sugar in half a cup of luke warm water and set aside for 10 to 15 minutes.
Place the flour in a large bowl, mix in the yeast water and salt then gradually stir in 2 1/2 cups of luke warm water and beat until smooth and elastic.
Cover with a towel and leave to rise in a warm place for about 1 hour.
Heat oil in a frying pan till very hot.
Drop small balls of batter with a tablespoon into the oil turning them over until crisp, golden and puffed.
Dip the Zalabia balls into the syrup for a few seconds then serve either hot or cold.