<!Recipie----->

Chickpea & Potato Patties

Spicy chickpea and potato patties with garlic and chilli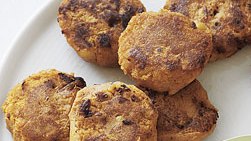 <!Recipie Ing & Meth--------->

Ingredients:

400g can chickpeas, drained, rinsed
1 medium potato, boiled soft
1 small onion, finely chopped
1/3 cup self-raising flour, sifted
1 cup plain flour
½ tsp chilli powder
½ tsp ground cumin
½ tsp corriander powder
2 Garlic cloves, crushed
Oil for shallow frying



Method:

Place the chickpeas and peeled potato in a bowl, mash well then fold in the self-raising flour then add the remining ingredients.
Shape ¼ cup mixture into a patty. Coat in plain flour, shaking off the excess. Repeat with rest of mixture.
Heat oil in large frying pan on medium. Cook patties in 2 batches for 2-3 minutes each side, until golden.
Serve hot.