<!Recipie----->

Eggplant and Chickpea Stew

Eggplant with Chickpeas a spicy tomato sauce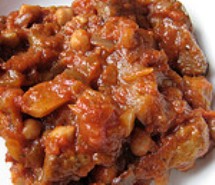 <!Ingredients----->

Ingredients:

500g Eggplant (about 1 large or 1-2 medium)
5 Tblsp Olive Oil
2 Onions, peeled and diced
3 Cloves Garlic, crushed
150g Can of Chickpeas, drained and rinsed
400g Can of Diced Tomatoes
1/2 Tsp Cinnamon
1/2 Tsp Allspice
1/2 Tsp Dried Mint
Salt and Pepper to taste
200ml Water

<!Method----->

Method:

Trim the stems off the Eggplant and cut into cubes about 1.5cm thick.
In a pan, heat 3 tablespoons of oil over medium heat and sauté the Eggplant for a few minutes or until golden brown.
With a slotted spoon remove to a side dish covered with kitchen paper and set aside.
Add the remaining oil, onion and garlic to the pan and sauté, stirring constantly.
After about 5 minutes, when the onion is translucent and soft, add the chick peas. Stir for another 5 minutes and then return the Eggplant to the pan.
Add the tomatoes and sprinkle with the mint and spices. Add the water and bring to the boil, then reduce the heat to low, cover and simmer for about one hour then serve.