<!Recipie----->

Fatteh Hummus

Pita chips with chick peas, yoghurt and pine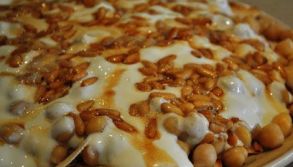 <!Ingredients----->

Ingredients:

1 cup dried chick peas, soaked overnight
500g Greek style yoghurt
¼ cup pine nuts
2 tbs unsalted butter
2 cloves garlic, mashed
1 tsp salt
Toasted Lebanese bread, crumbled into chip size pieces

<!Method----->

Method:

Soak chick peas in a large bowl and cover with 4 cups of cold water, stand overnight.
Drain chick peas, rinse & place in a large saucepan with 6 cups of water. Bring to the boil, turn down heat, cover and simmer gently for approximately 25-30 minutes until firm but cooked. Strain chick peas reserving some of the liquid & add ½ tsp of salt, mix & cool.
Toast the bread either in the oven or the grill until golden, cool & crumble. Alternatively, you can brush a layer of bread with olive oil and toast in the oven until golden, crumble. Can also be fried, break into pieces and fry quickly in 5cm of oil, drain.
In a bowl, add mashed garlic & ½ tsp of salt to the yoghurt and mix well.