<!Recipie----->

Lebanese Potato Paties

Spicy fried potato paties with basil, onion, garlic and chilli.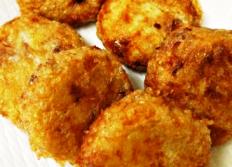 <!Ingredients----->

Ingredients:

3 Large Potatoes, boiled and peeled, cooled
3 Garlic Cloves, crushed
1 Tblsp Olive Oil
1 Onion, diced
1 Tsp Ground Coriander
1 Tsp Cumin Seeds
1 Tsp Ground Turmeric
1 Tsp Ground Chilli
1 Tsp Dried Basil Flakes
Salt and Peper to taste
1 egg
Oil For Frying

<!Method----->

Method:

In a large bowl, mash the cooled potatoes then add in and mix well all the other ingredients.
Make the small 6-8cm patties with your hands.
In a large frying pan, fry the patties in hot oil until golden brown on both sides.