<!Recipie----->

Lebanese Potato and Vegetable Bake

Golden mash potato top bake with a spicy mixed vegetable filling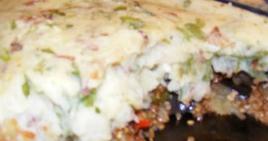 <!Ingredients----->

Ingredients:

2 Large Potatoes, peeled, boiled
1/2 Cup Milk
1 Medium Onion, diced
2 Tblsp Olive Oil
3 Cloves Garlic, crushed
1/2 Cup Bulgur Wheat
1 Medium Eggplant, cubed
1 Tsp Ground Cumin
1 Tsp Ground Coriander
1 Tsp Cayenne Pepper Powder
Salt and Pepper to taste
1/2 Cup Mushrooms, sliced
1/2 Cup Celery, chopped
1/2 Bell Pepper, chopped
1/4 Cup Fresh Flat Leaf Parsley
1 Tsp Dried Basil Flakes
1 Tsp Dried Oregano Flakes

<!Method----->

Method:

Preheat oven to 175c.
In a large bowl mash the potatoes, mix through milk and parsley, season with salt and pepper then set aside.
In a large frying pan heat the oil, fry the onion, garlic and bulgur until the onions are translucent.
Reduce heat to medium then add the eggplant, salt, pepper and spices cook for 10-15 minutes until the eggplant has just softened.
Add the mushrooms, celery, bell pepper, basil and oregano then continue to cook another 5 minutes.
Brush a deep casserole dish with oil then place the mixture in then spread the mashed potatoes mixture on top.
Bake for 30-40 minutes until the top is lightly golden.
Allow 10 minutes to cool then serve.