<!Recipie----->

Morrocan Vegetable and Chickpea Casserole

Vegetable casserole with carrots, celery, bell peppers, chickpea and spice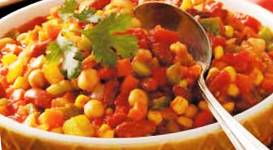 <!Ingredients----->

Ingredients:

2 Medium Carrots, diced
2 Celery Ribs, chopped
1 Large Onion, chopped
1 Medium Green Bell Pepper, chopped
2 Tblsp Canola Oil
3 Garlic Cloves, minced
2 Tblsp Chili Powder
1/2 Tsp Ground Cumin
1 Can diced Tomatoes, Undrained
2 Cups Frozen Corn
1 Can Kidney Beans, rinsed and drained
1 Can Chickpeas, rinsed and drained
1 Can Tomato Sauce

<!Method----->

Method:

In a large Dutch oven, saute the carrots, celery, onion, green pepper in oil for 5 min.
Add the garlic, chili powder and cumin then cook another 1 minute longer.
Mix in the left over ingredients and bring to a boil.
Cover and bake in the oven at 200c for 45-50 min or until thickened and vegetables are tender.