<!Recipie----->

Potato Chunks in Garlic and Herbs

Potatoes sautéed in garlic, basil, oregano and garnish in parsley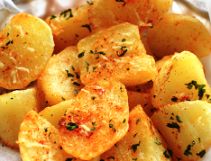 <!Ingredients----->

Ingredients:

4 Large Potatoes
2 Tblsp Olive Oil
3 Garlic Cloves, crushed
1 Tsp Dried Basil Flakes
1 Tsp Dried Oregano Flakes
Ground Black Pepper to taste
Salt to taste
1 Tblsp Flat Leaf Parsley, finely chopped

<!Method----->

Method:

Peel and dice potatoes into large chunks then boil potatoes for 3-5 minutes then drain and cool.
Place potatoes in the fridge for 1 hour to be cold.
In large frying heat the oil hot then gently sauté the potatoes until lightly golden, reduce heat then add garlic, herbs, ground pepper and sauté for another 2 minutes ensuring potatoes are fully coated.
Remove potatoes from heat, place on a serving plate, add salt, garnish parsley then serve.