<!Recipie----->

Roasted Tahini Cauliflower

Cauliflower roasted then covered in a tahini, garlic and lemon sauce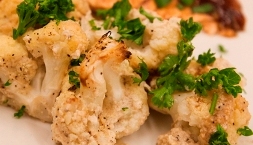 <!Ingredients----->

Ingredients:

1 Large Head of Cauliflower, chopped into bite-sized pieces
4 Tblsp of olive oil
Salt and Pepper to taste
1/4 cup of tahini
3 tablespoons water
1 clove of garlic, minced
2 Tblsp lemon juice
Flat Leaf parsley for garnishing

<!Method----->

Method:

Preheat the oven to 200c.
Toss cauliflower with olive oil and season with salt and pepper to taste.
Spread out on a baking sheet and bake for 30 minutes, stirring halfway through.
Combine tahini, water, lemon juice and minced garlic in a small bowl.
Pour seasonings over the roasted cauliflower.
Sprinkle with parsley then serve.