<!Recipie----->

Turmeric and Garlic Cauliflower

Cauliflower spiced with cumin, paprika, turmeric and garlic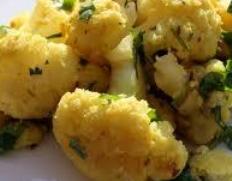 <!Ingredients----->

Ingredients:

1 Large Head of Cauliflower
1 1/2 Tsps Cumin
1 Tsp Ginger
1 Tsp Salt
1/2 Tsp Paprika
1/2 Tsp Turmeric
Black or Cayenne Pepper, to taste
1 Onion, Sliced or Coarsely chopped
3 Cloves Garlic, crushed
1/4 To 1/3 Cup Olive Oil
1 Preserved Lemon, quartered
1 Handful Red or Violet Olives
1/2 Cup Water
2 To 3 Tblsps chopped Fresh Coriander

<!Method----->

Method:

Break the cauliflower into small florets; wash and drain. Mix the cauliflower with the spices and set aside.
In a wide, deep skillet or Dutch oven, saute the onions and garlic in the olive oil over medium heat for just a few minutes.
Add the cauliflower, preserved lemon, olives and water and bring to a simmer.
Cover and cook for about 10 minutes, stirring gently once or twice, until the cauliflower is just tender.
Continue cooking, uncovered, to reduce the liquids to oil only.
Sprinkle the fresh coriander over the cauliflower and serve.