<!Recipie----->

Zucchini and Bell Pepper Pan Fried

Zucchini and red bell pepper pan fried with garlic, chilli and cumin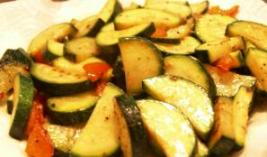 <!Ingredients----->

Ingredients:

1 Tblsp Olive Oil
2 Large Zucchini, sliced
1/2 Red Bell Pepper, chopped
2 Garlic Cloves, crushed
1 Tsp Ground Cumin
1 Tsp Ground Chilli
Salt and Pepper to taste

<!Method----->

Method:

In large frying pan heat the oil then add garlic, zucchini, bell pepper and spice.
Pan fry until the zucchini starts to soften.
Serve immediately.