<!Recipie----->

Zucchini Patties

Spicy zucchini patties with onion, garlic and parsley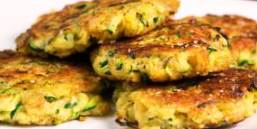 <!Ingredients----->

Ingredients:

1 Large Zucchini, grated
1 Small Onion, finely chopped
1 Clove Garlic, crushed
3 Tblsp Fresh Parsley, finely chopped
1/2 Tsp Dried oregano
1 Tsp Ground Cumin
1 Tsp Ground Coriander
1 Tsp Ground Chilli (optional)
Salt and Pepper, to taste
1 Tblsp Dry Bread Crumbs
1-2 Tsp Flour
1-2 Tblsp Oil for frying

<!Method----->

Method:

In a large mixing bowl add all of the ingredients then combine well.
Make the patties with your hands to form 6cm rounds then set aside.
Heat the oil in a large frying pan.
Fry the patties 3-4 at a time for 2-3 minutes on each side until browned then serve.