<!Recipie----->

Algerian Couscous and Potato Quiche

Algerian couscous, potato, tomatoes, olives and bell pepper quiche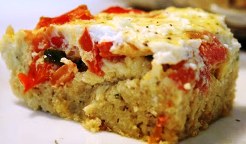 <!Ingredients----->

Ingredients:

1 Tblsp Olive Oil
1 Onion, finely chopped
2 Garlic Cloves, Minced
2 Cups Instant Couscous
1 Tsp Turmeric Powder
1 Tsp Ground Cumin
Salt and Pepper to taste
2 Large Potatoes, peeled, diced, boiled till soft, mashed
1 Small Red Bell Pepper, seeded, diced
2 Tomatoes, finley chopped
50g Black Olives, pitted, chopped
1 Tsp Fresh Lemon Zest
4 Eggs, beaten
300g White Cheese (Feta or Goat)

<!Method----->

Method:

In large saucepan heat the oil then sauté the onions and garlic until lightly golden.
Turn off heat, add 2 cup of boiling water, spices and couscous cover and let stand for 10 minutes.
Preheat the oven to 180c.
Grease a large baking dish add couscous, potato, bell pepper, tomato, olives, zest, eggs then mix well and pat flat.
Crumble the white cheese all over the top.
Bake in oven for 20-30 minutes until golden on top then serve hot.