<!Recipie----->

Couscous with Butter and Raisins

Sweet couscous with butter, cinnamon and raisins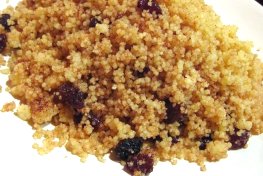 <!Ingredients----->

Ingredients:

2 Cups Couscous
2 1/2 Cups Boiling Water
4 Tblsp Butter
1 1/2 Tsp Ground Cinnamon
1 Tblsp Sugar
1 Tblsp Raisins

<!Method----->

Method:

In a large bowl add the couscous then pour over the boiling water.
Leave for 10 minutes until the water has been absorbed then gently fluff with a fork.
Mix through the butter, cinnamon, sugar and raisins.
Serve hot.