<!Recipie----->

Creamy Cinnamon Rice Pudding

Rrice pudding with rose water, cinnamon, cream and lemon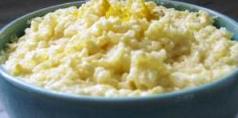 <!Recipie Ing & Meth--------->

Ingredients:

1 1/2 cups white rice
3 cups milk
1 cup cream
1 cup sugar
1 tablespoon rose water
1teaspoon ground cinnamon
Finely grated rind of 1 lemon



Method:

Place milk, cinnamon, lemon rind and sugar in a large saucepan and bring to the boil over medium-high heat, stirring to prevent milk solids from burning on the bottom.
Stir in rice, then reduce heat to low and cook, stirring occasionally, for 40-50 minutes or until rice is cooked.
Stir in the cream and cook for further 5 minutes.
Remove from heat, cool to room temperature, to serve divide rice pudding among bowls then top with your choice of seasonal fruit.