<!Recipie----->

Egyptian Baseema Cake

Coconut, semolina and butter cake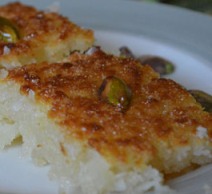 <!Ingredients----->

Ingredients:

2 Cups of Coconut Flakes
3/4 Cup of Semolina
1 1/4 Cup of Milk
2 Tbs of Unsalted Butter
1 Tsp Baking Powger
Nuts for garnishing (optional)

Syrup:
1 Cup of Sugar
1 Cup of Water
1/2 Tsp of Vanilla Essence
1 Tsp of Lemon Juice

<!Method----->

Method:

Pre-heat oven at 175c.
Mix all the ingredients well together then spread on a greased baking sheet sprinkle top with nuts and cut in squares.
Bake for about 45 minutes or until golden brown.
Meanwhile prepare the syrup, boil the water and sugar together for 5 minutes then add the vanilla and lemon juice then simmer for another 15 minutes.
Pour the syrup while it's hot over the hot baseema.
Let it cool then serve.