<!Recipie----->

Artichoke and Tahini Dip

Artichoke with tahini, garlic, lemon and parsley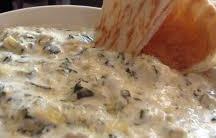 <!Ingredients----->

Ingredients:

8 large Artichoke hearts
2 Cloves Garlic, crushed
2 Tsp Cumin
2 Tblsp Tahini
1 Tblsp Olive Oil
Salt and Pepper to taste
1 Tsp chili powder
Juice of half a Lemon
2 Tblsp Flat Leaf Parsley, finely chopped

<!Method----->

Method:

Boil the Artichoke for 20-30 on a low heat until very soft.
Combine all of the ingredients in a blender then blend into a smooth consistency.
Serve chilled.