<!Recipie----->

Charred Bell Pepper and Tomato Dip

Spicy charred red bell pepper with tomato and garlic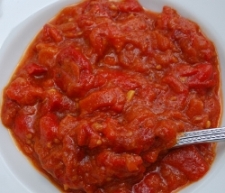 <!Ingredients----->

Ingredients:

2 Medium Red Bell Peppers
1 400g Can Diced Tomatoes
1 Cloves of Garlic
1 Tblsp Olive Oil
1/2 Tsp Ground Coriander
1/2 Tsp Ground Cumin
1/4 Tspoon Cayenne Pepper
Salt to taste

<!Method----->

Method:

Hold bell pepper with a fork over a stove flame for 10-20 seconds to char the skin.
Allow to cool then chop bell pepper, cut off charred skin and discarding seeds.
In a medium saucepan combine all of the ingredients.
Simmer on a medium-low heat for 15-20 minutes regularly stirring and adding a little water to stop it from drying out.
Remove from heat when a paste like consistency forms.
Allow to cool then serve with pita crisps.