<!Recipie----->

Moroccan Carrot Dip

Blended carrot, garlic, paprika, cinnamon and coriander dip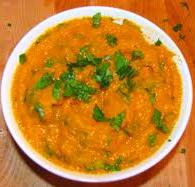 <!Recipie Ing & Meth--------->

Ingredients:

400g of Carrots peeled, trimmed, and cut into 1-inch chunks
1/4 cup water
2 to 3 cloves of garlic, peeled and finely chopped
3/4 teaspoon peeled and grated fresh ginger
1/2 teaspoon paprika
1/4 teaspoon cinnamon
1/4 teaspoon coriander
2 teaspoons freshly squeezed lemon juice
2 tablespoons extra-virgin olive oil
Freshly chopped parsley for garnish (optional)



Method:

Place the carrots and water in a small saucepan, and bring to a boil over medium-high heat.
As soon as the water begins to boil, reduce the heat to low, cover, and steam the carrots until they are very tender, about 15 minutes.
In a food processor, immersion blender, or regular blender, puree the carrots.
Add the garlic, ginger, paprika, cinnamon, coriander, and lemon juice, and continue to process until the mixture is smooth.
Drizzle in the olive oil, and process just until it is well-blended.
Transfer the carrot dip to a serving dish, and allow to cool. Garnish with fresh chopped parsley just before serving, if desired.
Serve at room temperature or chilled with pita chips, crusty bread or crudites.