<!Recipie----->

Turkish Tomato and Bell Pepper Dip

Turkish tomato, bell pepper, garlic lemon and spice dip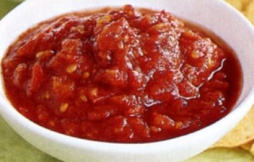 <!Ingredients----->

Ingredients:

4 Large Tomatoes, diced
1/2 Red Bell Pepper, chopped
2 Garlic Cloves, minced
1 Lemon
1 Tsp Ground Cumin
1 Tsp Paprika Powder
1 Tsp Ground Chilli (optional)
Salt and Pepper to taste
2 Tblsp Olive Oil

<!Method----->

Method:

In a large saucepan heat 1 tblsp of olive oil then combine all of the ingredients and squeeze in half of the lemon juice.
Cook while stirring adding a little water to form an even paste.
Remove from heat then squeeze on the other half of lemon juice and drizzle with olive oil then serve.