<!Recipie----->

Beef and Cannellini Bean Stew

Beef with cannellini beans in a spicy tomato and galic stew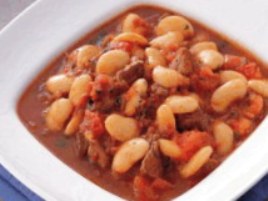 <!Ingredients----->

Ingredients:

300g Beef, cut into 2cm cubes
1 Cup Dried Cannellini Beans (White Beans)
2 Tblsp Vegetable Oil
2 Medium Onions, finely chopped
3 Cloves Garlic, crushed
3 Medium Tomatoes, diced
1 Liter Water
1 Tsp Ground Coriander
1 Tsp Ground Cardamom
Salt and Pepper to taste
1/2 Cup Coriander Leaves, chopped

<!Method----->

Method:

Soak the beans in cold water for 12 hours. Drain and set aside.
In large saucepan heat the oil then cook the onions, garlic and meat, season with spices and stir for 4-5 minutes.
Add water, beans and tomato, bring to a boil then simmer covered over low heat for 1 hour or until meat and beans are cooked.
Mix through the coriander leaves then simmer for another 5 minutes.
Can be served with rice.