<!Recipie----->

Egyptian Beef, Pea and Carrot Stew (Besila)

Diced beef in a tomato sauce with peas and carrots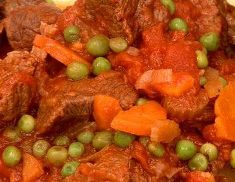 <!Ingredients----->

Ingredients:

1 Kg Peas (frozen is ok)
500g diced Beef, Cut into 2cm Cubes
1 Can 400g diced Tomatoes
2 Tabsp Tomato Paste
1 Large diced Onion
2 Carrots, peeled, chopped
2 Garlic Cloves, crushed
1 Cup Beef Stock
1/4 Tsp Mixed Spices
2 Tblsp Olive Oil
Salt and Pepper to taste
2-3 Cups Cooked Rice, Boiled and drained

<!Method----->

Method:

In a large pan heat olive oil then add the onion and garlic let it fry for 2 minutes till soft and golden.
Add the beef and fry for 4-5 minutes till brown then add the spices and pepper and fry for ½ minute.
Add the tomatoes, beef stock, tomato paste and salt.
Bring to the boil then put everything in the pressure cooker for 15 minutes till meat is tender.
Add the peas and carrots and let it cook for 5-10 minutes till the peas and carrots have softend.
Serve with rice.