<!Recipie----->

Iraqi Beef and Potato Kubba

Spicy beef with a crispy potato crust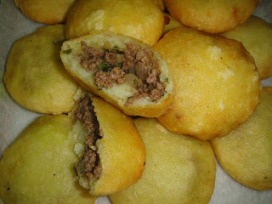 <!Ingredients----->

Ingredients:

Crust:
1 Kg Potatoes, Boiled and Peeled
2 Heaping Tbsp Cornstarch
1 Egg
1/2 Tsp Salt

Filling:
300g Ground Beef
1 Onion, chopped finely
1 Tsp Salt
1/4 Tsp Pepper
1/4 Tsp Cinnamon
1/4 Tsp Allspice
1/2 Cup Parsley, chopped

<!Method----->

Method:

Make the filling: saute the mince in a pan until browned, add the onion, salt, pepper, cinnamon, and allspice.
Keep cooking until onions are transparent and there is little to no liquid left.
Remove from heat, allow to cool slightly, stir in the parsley, allow to cool completely.
Make the crust: In a food processor, pulse the potato, cornstarch, egg, and salt until smooth and well mixed.
Refrigerate the crust mixture at least 2 hours to make it easier to work.
Note that working with a chilled crust mixture is crucial, because it is near impossible to form the kubba using a warm mixture.
To form the kubba, take from the potato mixture the size of an egg.
Make a hollow in the center and fill it with a teaspoon of the meat filling.
Seal with the edges of the potato, and flatten slightly between your two palms to create and bi-convex disc shape.
Freeze the kubba in single layer for at least 2 hours before deep-frying.
Deep-fry the frozen kubba until lightly golden.
Drain on absorbent paper towel then serve.