<!Recipie----->

Eggplant Stuffed with Spicy Beef

Roasted eggplant stuffed with spicy beef garnished with yoghurt and pine nuts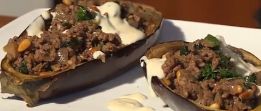 <!Ingredients----->

Ingredients:

500g Ground Beef
4 Medium Eggplants
3 Tbsp Olive Oil
1 Medium Onion, finely diced
2 Garlic Cloves, crushed
1 Tsp Ground Coriander
1 Tsp Ground Cumin
1 Tsp Allspice
Salt and Pepper to taste
1/4 Cup Natural Yoghurt
1/2 Tblsp cup Pine Nuts, toasted
1 Tblsp Flat Leaf Parsley, finely chopped

<!Method----->

Method:

Preheat oven to 180c.
Cut eggplant lengthways into halves then scoop out the flesh then roughly dice the scooped out flesh.
Sprinkle eggplants with salt, brush with 2 tablespoons of olive oil, place on a baking tray and roast for 20-30 minutes until softened.
In a large frying pan over medium heat, add the remaining olive oil then fry the onions and eggplant for 2-3 minutes, add garlic, spices and cook for another 2 minutes.
Add the beef, mix well then cook until the beef is cooked well then set aside.
Remove eggplant halves from the oven, place on a serving plate then fill each eggplant half with the beef mixture.
Drizzle over yoghurt, garnish with pine nuts and parsley then serve.