<!Recipie----->

Egyptian Moombar Sausages

Cardamom flavoured sausage stuffed with minced beef and rice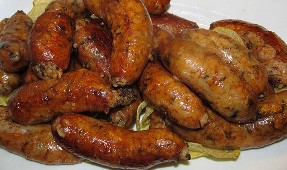 (Aslo spelt as Mombar or Mumbar)
<!Ingredients----->

Ingredients:

Aprox. 1.5 Meters Chitterlings (Beef Small Intestines)
1/2 Cup Flour
5 Mastic Grains
5 Cardamom Seeds
Salt and Pepper to taste
Oil For Frying

Stuffing:
1 Kg Minced Beef
2 Cups Rice
1 Tsp Cumin
2 Garlic cloves, finely minced
Salt and Pepper to taste

<!Method----->

Method:

First prepare the chitterlings, wash and clean thoroughly by opening and running cold water through then set aside.
In a large bowl mix well all the stuffing ingredients then set aside.
Tie one end of the chitterlings with cotton thread then loosely fill with the stuffing mixture, shape into sausages, tie thread about every 10cm.
Place the Moombar into a large pot then add the mastic grains, cardamom seeds, salt and pepper. Completely cover with water, boil for 30-40 minutes then drain.
Refrigerate for 1-2 hour to become cold.
Preheat oil for frying to hot then deep fry the Moombar until golden brown.
Place Moombar on paper towels to drain from excess oil then cut where tied, removes threads, sprinkle with salt and pepper then serve.