<!Recipie----->

Lebanese Lamb Chops

Lamb chops with herbs, red onion, bell peppers, rocket and white wheese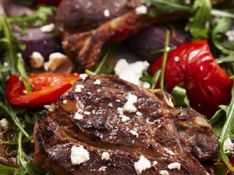 <!Ingredients----->

Ingredients:

4 Lamb Chops
1 Tbsp Olive Oil
2 Red Onions, cut into wedges
2 Small Red Bell Peppers, seeded, thickly sliced
1/2 Cup Water
60g Rocket Leaves
50g Akkawi or Feta Cheese, crumbled

Marinade:
1 Tbsp Olive Oil
1 Tbsp Lemon Juice
2 Tsp Lemon Zest
1 Tsp Dried Oregano Flakes
1 Tsp Dried Basil Flakes
1 Tsp Dried Rosmary
2 Garlic Cloves, crushed
Salt and Pepper to taste

<!Method----->

Method:

Prepare the marinade in large bowl mix oil, herbs, garlic, lemon juice and zest, salt and pepper then add the chops. Coat well, cover then leave in the fridge for 1hour.
In large frying heat oil then sauté the onions and bell peppers until tender then set aside.
Fry the chops in same pan turning regularly until browned and cooked then return onion mixture to the pan with the remaining marinade and cook for another 3-5 minutes.
Place chops in a serving dish, gently toss with the rocket, sprinkle crumbled cheese on top then serve with pita bread.