<!Recipie----->

Fried Beef and Almond Parcels

Spicy beef with crushed almonds, onion and garlic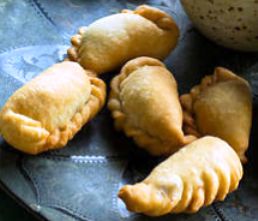 <!Ingredients----->

Ingredients:

250g Beef Mince
1 Cup Plain Flour
1 Cup Self-raising Flour
1 Tsp Salt
1 Tsp Sugar
3/4 Tsp Salt
1/4 Cup Olive Oil
1/3 Cup Crushed Almonds
2 Brown Onions, finely chopped
3 Cloves Garlic, crushed
1/4 Cup Vegetable Oil
1/2 Cup Water
1/4 Tsp Ground Black Pepper
1/4 Tsp Ground Cinnamon
1/4 Tsp Ground Coriander
1/4 Tsp Ground Cumin
1/4 Tsp Ground Nutmeg
Oil for deep frying

<!Method----->

Method:

Make the pastry - combine the flours, salt and sugar in a large bowl.
Add the oil and rub into the flour until it looks like breadcrumbs.
Add the water and mix until a dough forms then place onto a lightly floured surface and knead for 6–7 minutes.
Place the dough into a lightly oiled bowl, cover with cling wrap and rest at room temperature for about 1 hour.
Meanwhile, combine the spices and set aside.
Heat the olive oil in a frying pan on a medium heat.
Add the crushed almonds and cook for 2–3 minutes until lightly golden then remove and set aside.
Add the onion and garlic and cook for 4–5 minutes until lightly golden.
Add the beef and cook for 4–5 minutes, breaking up with a wooden spoon, until evenly browned.
Add the spices over the mince and continue to cook for another 3 minutes.
Remove from heat, add the crushed almonds and mix until combined then place in the fridge for 15 minutes until cool.
Roll out the dough on a lightly floured surface to 3 mm thick then use a 9 cm pastry cutter to cut out the rounds.
Take one piece of dough and brush half of the edge lightly with water.
Place 1 tablespoon full of filling into the centre, then fold it into half to form a semicircle.
Pinch edges together to seal then crimp with a fork.
Heat 10 cm of oil in a deep frying pan to 170c.
Fry the pies, in batches of 3-4, for 2–3 minutes until golden then drain on paper towel.
Allow to cool then serve.