<!Recipie----->

Libyan Breakfast Dougnut

Libyan breakfast fryed dougnut topped with egg (Sfinz)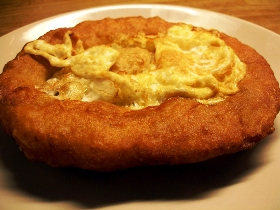 <!Ingredients----->

Ingredients:

2 Eggs, beaten
2 Tbsp Olive Oil
1 Tsp Baking Powder
1 Cup Flour (use more If needed)
1 Tbps Water
Oil for frying
1 Egg for topping

<!Method----->

Method:

Mix all ingredients together in a bowl then knead into smooth but slightly sticky dough (add more flour if dough is too sticky).
Form dough into a ball then flatten into the shape of a plate with the dough edges slightly thicker than the center.
Heat the oil in a deep frying pan over a moderate heat until hot.
Lower heat to low then carefully add flattened dough to the hot oil.
Fry until golden on both sides and cooked through for around 2-3 min (If center rises poke a small hole in the middle).
Crack the egg into the center of the dough after it rises and spoon a little hot oil over egg to cook.
Drain Sfinz on paper towels then serve.