<!Recipie----->

Chicken Kofta Balls Recipe

chicken breast balls with coriander, fenugreek and green pepers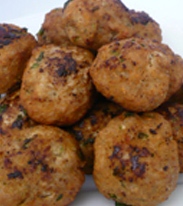 <!Recipie Ing & Meth--------->

Ingredients:

500g skinless chicken breasts cubed
1 large garlic clove, crushed
1 teasp fresh ginger
1 teasp ground coriander
1 teasp chili powder
½ teasp ground fenugreek
½ teasp turmeric
1 teasp salt
2 tablesp fresh Coriander leaves, chopped
2 fresh green pepers, chopped
2 cups water
oil (for deep frying)



Method:

Put all the ingredients with the water into a pan and cook over medium heat until all the water has evaporated.
Cool the mixture for 30 minutes.
Put the mixture into a food processor and process for 2 minutes.
Form the mixture into about 12 balls.
Heat the oil in a deep pan and fry the kofta balls until light golden brown, drain on paper towels and serve.