<!Recipie----->

Preserved Lemon and Olives Chicken Tajine

Spicy skinless chicken with tomato, potatoes, preserved lemon and olives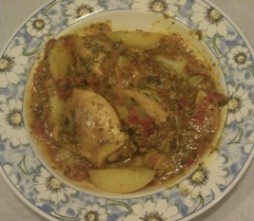 <!Ingredients----->

Ingredients:

3-4 Skinless Chicken Maryland cut into pieces
2 Tomato, chopped
1 Onion, sliced
2 Large Potatoes, cut into wedges
150g Pitted Green Olives
1 Bunch Fresh Coriander, roughly chopped
1 Cup Water
1 Preserved Lemon, cut into 6 segments

Marinade:
2 Cloves Garlic, crushed
1/2 Preserved Lemon, rinsed and thinly sliced
2 Onions, chopped
1/2 Red Chilli
1 Tbsp Paprika
1 Tbsp Ground Cumin
2 Tbsp Coriander, chopped
2 Tbsp Parsley, chopped
1/2 Tsp Saffron Threads, soaked in a little water
1/2 Cup Olive Oil

<!Method----->

Method:

In a food processor combine all the marinade ingredients until finely chopped.
Using half the marinade, rub the chicken all over then refrigerate overnight (or for at least 2 hours).
Spread 1 tablespoon of the marinade on the base of the tajine then add half the tomato and onion then arrange the chicken pieces on top.
Coat potato wedges with marinade then arrange around the chicken then top with preserved lemon, olives and the other half of the onion and tomato slices.
Mix the roughly chopped coriander and remaining marinade with water then pour over the mixture.
Cover the tajine with a lid and cook on a low heat for 45 minutes. (Do not stir during the cooking process.)
Serve tajine with rice or couscous and harissa sauce.