<!Recipie----->

Egyptian Molokhia with Rabbit

Molokhia over rice with tender rabbit pieces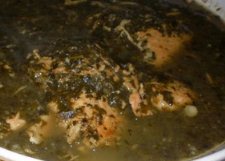 (Aslo spelt as Mulukhiyah, Mloukhiya, Molokhia, Molohiya, Mulukhiyya, Malukhiyah, or Moroheiya)
<!Ingredients----->

Ingredients:

1 Rabbit
1 Large Onion, halved
2 Bay Leaves
Salt and Pepper to taste
750g Bag Frozen Molokhia or Fresh Molokhia Leaves, finely chopped
3 Tbsp Butter
6 Garlic Cloves, crushed
1 Tsp Ground Coriander (optional)
2 Cups of Cooked Rice, boiled, drained well
Tblsp Oil for frying

Dressing: (Optional)
1/2 Small Onion, finely chopped
1/2 Cup White Vinegar

<!Method----->

Method:

In a large stockpot bring 2 litre of water to a boil then add the rabbit, onion, bay leaves, salt and pepper (add more water to cover if needed).
Reduce heat and simmer covered for 40-60 minutes until the rabbit is tender, strain and reserve 5 cups of rabbit stock, discard onion halves and set rabbit aside.
In a large saucepan bring the rabbit stock to a boil, reduce heat then add the molokhia and ground coriander then let simmer on a low heat uncovered for 2 minutes.
While the molokhia is simmering, in a frying pan melt the butter then add the garlic stirring until the garlic is golden then pour into the molokhia saucepan, stir and simmer for 1 more minute then turn heat off.
Cut the rabbit into 1/4 or 1/8 pieces.
Serve the molokhia over rice with the rabbit pieces and add the vinegar dressing as desired.