<!Recipie----->

Saudi Spicy Hard Boiled Egg Stew

Eggs with tomatoes, onion, garlic, cumin, turmeric and lemon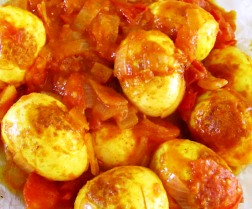 <!Ingredients----->

Ingredients:

6 Eggs, hard boiled, peeled
2 Tblsp Olive Oil
1 Onion, finely chopped
2 Garlic Cloves, crushed
2 Medium Tomatoes, diced
1 Tsp Ground Chilli
1 Tsp Ground Cumin
1 Tsp Turmeric Powder
Salt and Pepper to taste
Juice of 1 Lemon

<!Method----->

Method:

In large frying pan heat 1 tablespoon of oil then fry the eggs, rolling in the pan to form a golden crust. Remove the eggs from the pan and set aside.
Add 1 tablespoon of oil to the pan then sauté the garlic and onions until lightly golden.
Add the tomatoes, spices and 1/2 cup of water and cook the tomatoes for 3-5 minutes to soften.
Add eggs and cook for another 3-5 minutes allowing the eggs to coat well and absorb the sauce.
Remove from heat and squeeze on lemon juice.
Serve with pita bread.