<!Recipie----->

Syrian Eggplant Omelette

Eggplant with scrambled eggs, garlic, onion and spice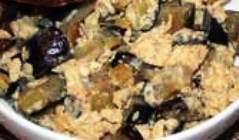 <!Ingredients----->

Ingredients:

4 Eggs
1 Small Eggplant, diced
1 Small Onion, finely chopped
1 Clove Garlic, crushed
1/2 Tsp Cumin Powder
Salt and pepper to taste
1/2 Tsp Chill Powder (optional)
1 Tblsp Olive Oil

<!Method----->

Method:

In large frying pan heat the oil then add the onions, garlic, eggplant and spices.
Cook stirring for 5-10 minutes until the eggplant has softened.
Add the eggs then keep stirring for another 3-5 minutes until the eggs are cooked.
Serve hot immediately.