<!Recipie----->

Egyptian Moamar Baked Rice

Creamy, spicy baked rice with a golden brown crust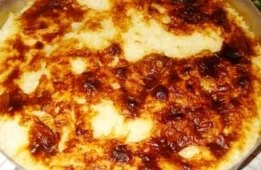 (Aslo spelt as Moammar, Meammer, Mammar)
<!Ingredients----->

Ingredients:

2 Cup Rice
1 Cup Full Cream Milk
1 Cup Stock
2 Tblsp Cream
1 Tsp Baharat Spice
Salt and Papper to taste
(Optional) 300g Diced Chicken Fillet or Diced Beef
100g Butter, melted

<!Method----->

Method:

Wash rice then soak in water for 15 min.
Preheat oven to 180c.
Place rice in a ceramic or glass casserole then add the meat/chicken pieces, stock, milk, cream and spices, mix well then pour butter over the top.
Place casserole on baking try to reduce oven spills then bake for around 1 hour.
Remove from oven when a golden brown crust forms.
Allow 10-15 minutes to cool then serve.