<!Recipie----->

Garlic Lemon and Herb Rice

Fluffy rice with garlic, lemon and fresh herbs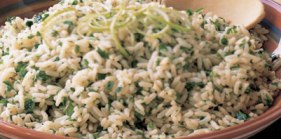 <!Ingredients----->

Ingredients:

1 1/2 Cups Uncooked Long-grain White Rice
3 Cups Low-salt Chicken Broth
2 Tblsp Fresh Lime Juice
2 Tblsp Vegetable Oil
4 Large Garlic Cloves, minced
3/4 Tsp Salt
1/4 Cup chopped Fresh Coriander
1/4 Cup chopped Fresh Flat Leaf Parsley
2 Tblsp chopped Fresh Mint
1 Tblsp chopped Fresh Marjoram
1 1/2 Tsp grated Lemon Peel

<!Method----->

Method:

Place rice in strainer. Rinse under cold water until water runs clear. Drain well.
Bring broth and lime juice to simmer in medium saucepan.
Heat oil in large saucepan over medium heat. Add garlic then sauté until golden, about 1 minute.
Add rice then stir 2 minutes, add hot broth mixture and 3/4 teaspoon salt and bring to boil.
Reduce heat to low then cover. Cook until rice is tender, about 25 minutes.
Turn off heat, let stand, covered, 10 minutes. Add herbs and lemon peel to rice then fluff with fork.
Season with additional salt, if desired.