<!Recipie----->

Lebanese Mishkool Rice

Spicy rice with rose water and butter garnished tomato, potato and onion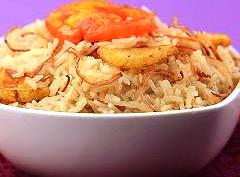 <!Ingredients----->

Ingredients:

1 1/4 Cups Basmati Rice
4 Tbsp Butter
1 Tsp Baharat
Salt and Pepper to taste
3 Tbsp Milk
2 Tbsp Rose Water
2 Tblsp Oil for frying
1 Medium Tomatoes, thinly sliced
1 Large Potatoes, thinly sliced
1 Medium Onions, thinly sliced

<!Method----->

Method:

In a medium saucepan boil the rice for about 10 minutes until cooked, drain in a colander then rinse with cold water and set aside.
In large frying pan on a medium heat melt the butter, add the milk, baharat, rose water, salt and pepper then add the rice and gently mix well to completely coat the rice, remove from heat and set aside.
In a medium frying pan heat the oil then fry the tomatoes for 1 minute and the potatoes and onions until golden.
Place the rice on a serving plate with the tomatoes, potatoes and onions on top.