<!Recipie----->

Lebanese Onion, Mint and Parsley Salad

Onion, mint and parsley with sumac and garlic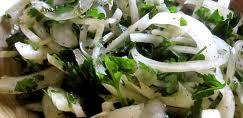 <!Ingredients----->

Ingredients:

1 Large Onion, thinly sliced
1/4 Cup Fresh Mint Leaves, minced
2 Cups Fresh Parsley Leaves, roughly chopped
1 Tsp Cumin Powder
1 Garlic Cloves, crushed
3/4 Tsp Ground Sumac
Salt and Pepper to taste
1 Tblsp Lemon Juice
1 1/2 Tblsp Olive Oil

<!Method----->

Method:

In a large bowl add onion, mint leaves and parsley.
In a small bowl, mix the garlic, cumin, sumac, salt and pepper, lemon juice and olive oil.
Pour the dressing over the salad, toss well then serve.